Calliente...
They opened a new Moe's Southwest Grill across the street from work. It's the first business to open in the cursed new development. I had never heard of them so I went online and discovered
this
. A blog completely dedicated to burritos...now that's pretty cool!
Oh yeah! I tried Moe's last night...overpriced and overwhelmingly average.
Thankfully I had some Cholula hot sauce in my cupboard to spice things up. In a world of retardo-hot sauces like Pure Cap, Da' Bomb Ground Zero, and Dave's Insanity Private Reserve it's nice to know that there's still just a simple but great hot sauce out there. I've loved Cholula for years. I can certainly handle it hotter than Cholula, but Cholula has the perfect balance of heat, sweetness, and flavor. It's great on just about anything.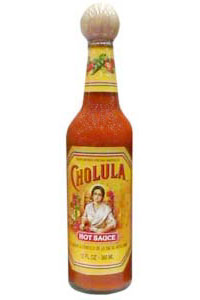 Cholula- The world's best hot sauce! (In my humble opinion)
What's your favorite way of spicing things up?
Cheers,
Jason