Cool beans in Detroit...
Wow! There's a myriad of interesting stuff going on in the D right now!
Perhaps the coolest thing is that
The Muppet Movie
is going to be showing at the Main this Friday and Saturday at midnight! Anyone interested? (Either night would work for me at this point). YAAAAAAAAAAAAYYYYYYYYYYYYYYYY!!! I've mentioned before what a genius I think Jim Henson was. One of the greatest!
I also may have mentioned that the
Buzzcocks
are playing at the Shelter this Friday. It's unfortunate that I probably won't be going and that's a damn shame. The Shelter is way too small a venue for one of the world's best bands. That's also what would make the show so damn cool. I think the last time I saw a show at the Shelter it was
Half Japanese
about 10 years ago. A friend of mine is friends with Jad Fair's brother David. Jad is as strange as they say. That made for an interesting evening...
Buzzcocks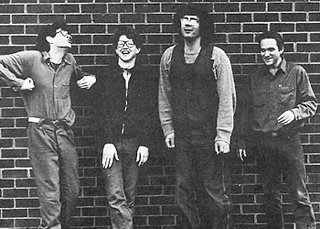 Half Japanese
Do put away your kicker boots yet!
The Germs
are also coming soon (to the Magic Stick). Of course Darby Crash won't be there, but as far as I know legendary guitarist Pat Smear will...
The biggest frickin' shock of all is that
Tom Waits
is coming to town. WTF?!?!? As far as I know Tom Waits has never played Detroit and he probably never will again. I'd LOVE to see him, but unfortunately yet hopefully I'll be back at the restaurant by then. I'll try to get the night off (assuming I can get tickets). Ticket sales are especially fascist. Tickets go on sale at 10:00AM this Friday for an August 11th show, but tickets are ONLY available through the Ticketbastard website or phone number. They are NOT available at Ticketwhore outlets or at the venue. There is a limit of 2 tix per person. I'll do what I can...it's probably the only chance I'll ever have of seeing him live. I still can't believe that Tom f'in Waits is coming to Detroit. Strange but true...
Mission of Burma
is coming soon too!
Dang!
Work is really weird right now. I'll have more details when it's safe.
Another interesting opinion piece from Jack Lessenberry
here
.
I'm looking forward to see
Clerks 2
and
Talledega Nights: The Ballad of Ricky Bobby
this summer. I need a laugh the way everything is going in this country. Trailers from both look hilarious.
Stupid ad of the week- I was flipping through my new issue of
Food and Wine
when I came upon an ad for a food product. The flavor shown was "Wild Salmon Florentine in a Delicate Sauce with Garden Greens". Sounds delicious, right? The add is for frickin' Fancy Feast cat food. I wonder if it's line caught or day boat salmon???
There was a pretty interesting article in the new
Food and Wine
about biodegradable disposable, plates, utentils, etc. made out of potato, sugar cane, and corn. Also was a great idea to by products made from bamboo as it is one of the world's fastest growing plants. Great idea!
Sorry for all the filler...slow news day on my part.
Random poll- Who was your favorite Muppet (excluding Kermit)? Did you prefer "Pigs in Space" or "The Swedish Chef"?
Cheers,
Jason